Management Team
Ras Al Khaimah International Airport's management team bring decades of diverse experience and a history of success. Combining business acumen with aviation know how, these executives guide more than 350 talented employees to provide passengers and businesses operating here with exceptional service.
Board of Directors
Engr. Salem Bin Sultan Al Qasimi
Chairman
H.E. Engr. Sheikh Salem bin Sultan bin Saqr Al Qasimi is a member of the Government of Ras Al-Khaimah Executive Council. H.E. Engr. Sheikh Salem bin Sultan bin Saqr Al Qasimi has been Chairman of the Department of Civil Aviation, Ras Al Khaimah since 1997 after serving the dual role as Chairman of the Airport Board and Director General of the Department. He has been responsible for stabilizing management and financial positioning of the organization and currently leads a 350 person workforce with full responsibility for the Ras Al Khaimah International Airport including all management, business development, marketing, human resources and administrative affairs.
Ramesh Venkataraman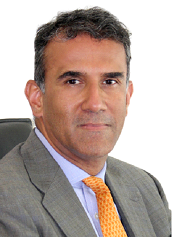 Ramesh Venkataraman is an experienced private equity investor and a former partner with McKinsey & Company. He is a senior adviser to IDO, the investment holding company of Ras Al Khaimah, as well as runs Avest, a private equity investment firm making direct investments in Asia. His current board positions include ATCO Group (Saudi industrial conglomerate), Wall Street Finance (listed Mumbai-based digital financial services platform), RAKEZ (free trade zone and industrial park), Ras Al Khaimah International Airport, Falcon Technologies (optical storage media manufacturer), and Pure Data Centres (UK-based wholesale data centre operator).
Between 2012-2016, Ramesh ran Samena Capital's Private Equity business with AUM of c. $500m, and served on the firm's Board, Executive Committee, and Investment committee. He led Samena investments into RAK Ceramics, Flemingo, Mahindra Two Wheelers, and Tejas, and served on the boards of RAK Logistics and Dynamatic Technologies. Previously, Ramesh was a Managing Director in London with Bridgepoint Capital, the leading European mid-market buyout firm, prior to which he was a partner with McKinsey & Company's New York and Mumbai Offices and led the firm's High-Tech and Telecom practice for Asia. Ramesh has graduate degrees from Princeton and Oxford universities and an undergraduate degree in engineering from the Indian Institute of Technology – Kharagpur.
Pascal Bosse
Pascal Bosse has 24 years of credentials in corporate finance, strategic advisory and private equity investment in emerging countries (CIS countries, Africa, South Asia), Western European and Middle Eastern markets. Prior to joining the IDO, Pascal worked with Société Générale (Paris and Moscow), Mercer Management Consulting (Oliver Wyman) in the Paris Office, Daiwa SMBC (London) and with Emirates International Investment Company (Abu Dhabi) and Royal Group (Abu Dhabi). Through his career path, Pascal has managed over US$4bn of investment portfolio & transactions for international groups and family businesses in different sectors including ITC, financial services, real estate, hospitality and manufacturing. Pascal also provided Government advise on privatization strategies and sector organizations in Eastern Europe. Pascal graduated from HEC Paris with specializations in finance and corporate strategy. He is fluent in French, English, Russian and Spanish languages.
Raki Phillips
As CEO of Ras Al Khaimah Tourism Development Authority (RAKTDA), Raki Phillips is responsible for the continued growth of the Emirate as a world-class tourism destination. This includes collaborating with key partners, regulating standards within the sector, developing the Emirate's tourism infrastructure and creating sustainable investment opportunities. In addition to improving the competitive performance of the tourism sector, Phillips is also tasked with the economic and social prosperity of Ras Al Khaimah while enhancing the quality of life for all its residents.
Phillips is an award-winning hospitality veteran and a serial entrepreneur with over 20 years of experience working with some of the world's most renowned brands including Ritz-Carlton Hotels, Fairmont Raffles Hotels International (FRHI) and Universal Studios Orlando as well as pioneering a game-changing online dessert concept – SugarMoo- in the Middle East. Phillips, an American national and a fluent Arabic speaker, has a great understanding of the region having worked in the Middle East since 2005 and was recognized by Hotelier Middle East as one of the 'Top 20 Most Powerful Arab Hoteliers'. His previous role as Senior Partner and Senior Vice President of Development with International Hospitality Consulting Group (INHOCO), saw him develop hotel project pipelines exceeding $5 billion in assets and negotiating multimillion-dollar hotel deals for global luxury brands in over 25 markets worldwide.
Phillips is a member of the Executive Board of RAK Airport. He holds a Bachelor of Science in Business Administration from the University of Central Florida, and a MBA in Organizational Management from the University of Phoenix in Orlando.
Atanasios Titonis
Chief Executive Officer (CEO), Ras-Al-Khaimah International Airport
As the newly appointed CEO of Ras Al Khaimah International Airport, Atanasios Titonis is responsible for continuing the next phase of the Airport's overall development. He will lead its business and strategy development, financial management and day-to-day operations. Atanasios has over 25 years' experience across several aviation sectors covering Airlines, tour operators, ground handlers and Airports. One of his core experience & strengths is in building up and developing an Airport's business – particularly both the areas of low-cost and cargo carriers.
Prior to moving to Ras Al Khaimah, Atanasios has served in several other senior executive roles. Most recently, he served as the Chief Operating Officer with Dammam Airports Company of Saudi Arabia where he helped to develop its low-cost business plus ensured the airport compliance and improved the overall operation efficiency. Just prior to that, he worked with Germany's Cologne Bonn Airport for 12 years serving in a dual role as the COO/Accountable Manager and at one point as Acting Chief Executive Officer. There he and his teams transformed the Airport into a competitive low-cost player by building up a high-quality passenger experience which was validated by a number of industry awards. There with Cologne Bonn Airport's Management Team, he and his teams importantly contributed to the Airport's turnaround, growth, and profitability. Atanasios came up through the operation side of the aviation business from his university and has learned about managing airports from inside.
He has a passion for developing young professionals. He has always dedicated time to serve as a senior lecturer for students of aviation and actively gets involves in the development of the aviation industry.